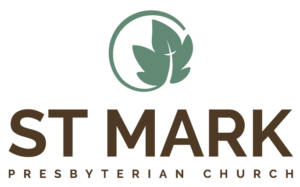 Worship with Us
We worship together each Sunday at 10:30 am, offering a more traditional service on the 1st, 3rd and 5th Sundays of the month and a more contemporary one on the 2nd and 4th Sundays. Sunday School classes for all ages meet before worship at 9:15 am and nursery care is available. Be sure to join us for lunch after worship on the 5th Sunday of the month!
For those worshipping online, here are this Sunday's
Order of Worship and Lyrics. Henry Owen, Executive Director of John
Knox Ranch will lead us in worship this Sunday.
Services are live streamed on YouTube. Click on the image below.
Latest News!
Welcome Rev. Ann Marie Quigley-Swanson!
At the September 12 congregational meeting, members of St. Mark voted to extend to the Reverend Ann Marie Quigley-Swanson a call to be our next installed pastor. Ann Marie will begin ministry at St. Mark on November 15. She comes to us from Northwoods Presbyterian Church in Houston where she has served for the past 17 years, most recently as Senior Associate Pastor.
Guest pastors leading worship in the transition are:
Oct. 24 — Henry Owen, Executive Director John Knox Ranch
Oct. 31 — Rev. Dick Powell – Consecration Sunday with lunch after worship
Nov. 7 — Rev. Dr. Sallie Watson – All Saints Sunday/Communion
Nov. 14 — Rev. Mary D. D'Alessio
Ways to Serve
Click to learn more
Hunger & Homelessness Week Nov. 11-19