Outreach: Mission & Evangelism
Isaiah 6:8:
And I heard the voice of the Lord saying,
"Whom shall I send, and who will go for us?"
Then I said, "Here I am! Send me."
The Outreach Ministry of St. Mark seeks to encourage and facilitate the efforts of the congregation in spreading the gospel of Jesus Christ and extending the hand of justice, mercy and compassion in his name throughout the world.
Outreach Ministry NEWS FLASH!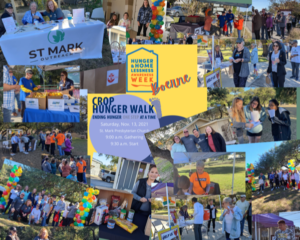 The Hunger & Homelessness Week Crop Walk on 11/13/21 was a fun, inspirational event that raised over $2,100 to fight hunger in our community and around the world. Twenty-five percent of those funds stay with Hill Country Family Services, and the other 75% supports Church World Service. St. Mark Outreach Ministry donated an additional $2,500 to Hill Country Family Services to help them meet the food insecurity needs of local families. Many members helped us have 74 registered walkers and approximately 86 people total. View more photos on the church Facebook page.
Outreach Ministry Mission
Everyone at St. Mark is encouraged to have a "mission" – to reach out and become the hands and feet of Christ. Efforts range from local to international and include consistent prayer, sharing of resources, and direct involvement. St Mark supports the mission efforts of PC(USA), Mission Presbytery, and of other local, regional and worldwide ministries.
Local Missions
Scholarships for children attending St. Mark Early Learning Center preschool.
Making turbans and heart pillows for cancer victims, baby layettes for the Hill Country Pregnancy Care Center, lap quilts and shawls for the homebound and many other projects. This is done by St. Mark's Compassion in Action (CIA) group which meets twice monthly at the church.

Providing

financial support and sponsored a work day to paint and clean up the grounds at the Kendall County Women's Shelter store.
Since 2017, St. Mark has partnered with the Boerne Community Coalition to improve the quality of life for children and families in our community. During the 2018/19 and 2019/20 school years, St. Mark hosted a Kids Can After-School Program. The church provided financial support and volunteers who served as tutors and mentors, offering a nutritious snack, introducing the children to scripture and prayer, and instilling pride in their educational accomplishments. We continue to support many other BCC programs throughout the year, including the

LOVE Boerne Kids Summer Food Drive and LOVE Boerne Neighborhoods home repair program at a local community.

Helping with home construction and other projects for Habitat for Humanity.
Financial, volunteer support, and several specific food drives for Hill Country Daily Bread Ministries.
Donations and coordination of programs in support of Hill Country Family Services.
Supporting medical services to families in need through Hill Country Mission for Health.
Financial support for the Hill Country Pregnancy Care Center and support for their annual gala event.
St. Mark Emergency and Family Assistance Fund for families in our church who are in need.
Regional Missions
Financial support for
Austin Presbyterian Theological Seminary

Schreiner University

Presbyterian Pan American School

Grace House faith-based transition home for women who have been incarcerated and are at continuing risk

Presbyterian Children's Home and Services
St. Mark members actively support John Knox Ranch near Wimberley and Mo Ranch near Hunt, by attending summer camps, outdoor activities, retreats and educational programs for youth and adults as well as financial support.
Worldwide Missions
Internationally, St. Mark supports the work of several Presbyterian organizations who provide relief internationally to people in need.
Outreach Ministry Evangelism
Through evangelism, we strive to identify opportunities and needs close to home in the Boerne community where St. Mark can display God's love and make a physical and spiritual impact. By focusing on community outreach, internal and external engagement and providing support to those in need, we hope to strengthen relationships among St. Mark members and the community and help to address real needs that exist.
The Evangelism Ministry
Provides opportunities for evangelism to be learned and practiced in and by church members, and actively seeks and supports fellowship opportunities between members and the greater Boerne community.

Provides scholarships for St. Mark members to participate in events such as the All-Church Retreat at Mo Ranch.

Engages in community events including parades, fairs and school activities. Members build a float and youth ride on it each year in the Weihnachts Christmas Parade.

Supports the St. Mark Women's Gathering Event.

Engages with the Boerne Chamber of Commerce.

Supports St. Mark's annual Vacation Bible School which serves over 130 children ages 4-12 and offers a class for young adults with special needs. Eighty percent or more of the families served through VBS are not church members, while over 50 teen and adult church members volunteer to help each year.