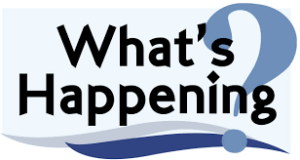 ELC REGISTRATION FOR 2017/2018 SCHOOL YEAR — it's not too late to enroll your child or grandchild. ELC has classes for children ages 2 through PreK. Please call 830-249-3813 for more information or visit the ELC for a tour of the campus.
NEW MEMBER CLASSES
begin September 17 and continue through October 8, when new members will be received. Each week, the classes will look at: What is Church? (Sept 17). What is Presbyterian? (Sept 24). What does church membership mean? (Oct 1). What is St. Mark? (Oct 8). Classes will meet in the Parlor (in hallway near church office) – attend one class or all. Call the church office at 830-249-3232 for more information or to register.
KIDS CAN AFTER SCHOOL PROGRAM
will be starting October 2 with a training Sept. 23, 9:30-Noon. We are still in need of homework volunteers. Contact Toni Hensley, 830.249.8425 or
toni.hensley@gmail.com
.
HURRICANE HARVEY: St. Mark will be staying in touch with Mission Presbytery on how we can assist with the affected areas by Harvey. Assistance can be provided by:
1) A special offering was taken on Sunday, September 17, to support PC(USA) Presbyterian Disaster Assistance. You can support this donation in two ways: 1) Write a check payable to St. Mark and mark "Harvey" in the memo line. 2) To donate with cash, use a pew envelope and write "Harvey" on it and your name (If you would like your donation to be credited to you and included on your quarterly statement). Remember that these donations are not part of your annual tithes but are over and above that pledge.
2) Monetary donations can also be designated to DR000169-Harvey and be sent to PC(USA), PO Box 643700, Pittsburgh PA 15264-3700.
3) You can text to 20222 and enter PDA. And $10 will automatically be charged to your phone bill and the $10 will be sent to PDA.
4) Hill Country Daily Bread Ministry is partnering with the American Red Cross. Items needed are non-perishable canned tuna, chicken, sausages, and other ready-to-eat (or easily made) items as well as water, hygiene items, and cleaning supplies. Please deliver donations to Daily Bread at 38 Cascade Caverns Road, 9:30am – 2:30pm, Mon – Fri. Or drop donations by the church office at 8:30am – 4:30pm, Mon – Thu, or leave them at the Mission table in the hallway on Sunday morning.
HILL COUNTRY PREGANCY CARE CENTER (HCPCC) NEEDS DIAPERS!
As a result of Hurricane Harvey, HCPCC has not received the diapers that they need for our once a month group parenting classes. If any of your churches or groups would be willing to do a quick diaper drive for sizes 4, 5, 6 we would be so blessed. Or if individuals would be willing to drop diapers off at HCPCC we would be so grateful. HCPCC is at 429 Fabra St, Boerne; hours are Tues 10:00am – 8:00pm; Wed 10:00am – 4:00pm; Thu 10:00am – 8:00pm; Fri 10:00am – 1:00pm; closed Sat, Sun, Mon.
TEEN CHALLENGE GOLF TOURNAMENT
:
Come play golf with us in the tournament on the 25th of September at 7:00am, La Conterra Palmer Course. All proceeds go to this wonderful ministry. See Mike Penrod or call him at 210-885-3458.
PRESENT WORD CLASS
began a new 13-week study, COVENANT WITH GOD on Sunday, September 3. The study includes readings from various books from both the Old and New Testaments. The class will be studying the covenants (promises) that God initiated, and the wonderful significance of His efforts to establish a relationship with us. Join us in FLC #106 on Sunday mornings at 10:10, and let's work together to discern the path God wishes us to follow. All are welcome. Leaders are Bill and Kate Dalton.
HELP WANTED:
Our new
cookie ministry
has been so exciting and fun and
appreciated
! But we need volunteers to sign up to provide cookies for the remaining Sundays in 2017. The sign-up board is in the hallway –stop by and sign up to provide cookies from a favorite family recipe or try out a new recipe on us! We're good with that!
YOUTH GARAGE SALE – WHAHOOO!
The Youth have set aside October 21 to hold their annual garage sale to raise $$ for their 2018 mission trip and other youth activities. As always, space is limited at this time, so hold onto your items until the week of October 16 then drop them at the FLC. Questions? Ask Chester!
Don't miss ST. MARK'S ALL-CHURCH RETREAT at Mo Ranch the weekend of October 27-29! This year's event will feature a series of talks on Transformation by Reverend Dick Powell, formerly a member of St. Mark, as well as a mix of traditional hymns and contemporary music, and bountiful opportunities for spiritual growth, fellowship, and play in an awe-inspiring Texas Hill Country setting. To reserve your space, please visit our information and sign-up table in the rotunda or contact Larry Warren (familyjourney@yahoo.com).